19

Feb, 10
One of the hardest parts of starting a home business, is deciding where to start.  In order to assist you in becoming a full time home business owner, I created this list of tips on starting a business from home.  I included some bullet points on why each tip is included, and even got some incite from some other Entrepreneurs on how to start from home.
Follow these tips, keep building your business and pretty soon your living room could look like this (legally):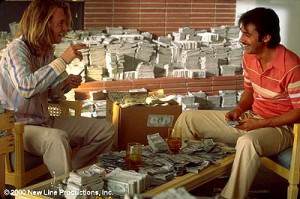 1.  Practice Personal Development –
Most people will resist this at first (I know I did) and eventually find themselves turning into personal development junkies.  There is just something about improving oneself, and becoming better at being yourself that is addicting.  For many, working from home is personal development with a paycheck.
2.  Find a business you can be passionate about –
3.  Tell the other people you live with you're running a home business –
This may sound silly, but make sure the others around you know you're going to need some space to work from home.  That may be as simple as putting a sign on your door listing a period of times that you can't be disturbed, or by having a conversation with your loved one, and asking them for their support during your endeavor.
4.  Commit to working at least 12 hours a week –
Remember this is a business, not a hobby.  Those that don't work their business, do not have a business that works.  By working at least 12 hours a week you will be taking your business seriously enough to at least generate some part time income.  Prove to yourself that you can make money from home, then expand.
5.  Use a privately hosted blog as a ground base to manage your business –
This is what I do, that's what top income earners in various companies do, and that's what you should be doing too.  If you don't already have a blog I recommend getting one from The Free Blog Factory.  They do great work, have a quick turn around time, and it only costs you a penny to get started.  Generic websites are a thing of the past.
6.  Stay in at least one extra night a week –
I'm sorry, it may sound  tough but this will allow you to get used to being a business owner.   Sacrifice is necessary; drinking at the bar may be fun, but staying in at home will make you the money to one day own the bar.
7.  Find other home business owners to network with online –
Who better from to share advice with then other Entrepreneurs.  Even for this article I asked for help from others.  Below you can find 6 more tips from other home business owners I've connected with via social media.  (Click their name if you wish to connect with them on facebook.)
8. Create a schedule –
"If you plan out your day, then you will have a bunch of things to accomplish, working from home is great, you have everything you need, and want around you. You can sit down and eat lunch and watch a TV show, but then you can easily get WAY distracted… next thing you know, what did you do all day?" – Joshua Darville
9.  Have Fun and have a kick ass office set up –
When your surroundings are professional, it's easier to perform professionally.  Remove the clutter from your life and make way for abundance!  In order to train your brain, play Abundance and Cash Flow 101 to get the financial fundamentals down." – Marcelle Allen
10.  In college? Skip Class –
"I said it. Skip Class. Working from home towards something your passionate about will teach you more than any piece of higher education will. Heck- make the money to build your own entrepreneurial school!" – Nathan Latka
11.  Make sure you have a budget that will sustain your biz –
"Too many people get into a home based business believing it's just a small "in" and then find out there are other costs associated with it. Up side is tax deductions, down side is if you're not prepared for it, you will lose heart and interest from "unexpected" expenses. don't get caught not thinking ahead. have a business plan with a marketing plan it makes it work well. (and it doesn't have to be this long drawn out plan either, just something that makes sense.)" – Michael H Kaleikini
12.  Develop a Success System –
"Find what you love to do; discover someone's need that you can fill better than others with your passion; hire help when you can't do what is required to fill it" – John Razmus
13.  Eliminate the negativity –
"Don't Listen to your Negative Friends and Family. It always seems that the ones who love you most will try to stop you from your success. The whole crabs in a bucket principle. Forget them! Live Your Passion! Tell Your Story! You Cannot Lose Being You!" Arthur Tubman
Now its your turn- I want to know, whats your #1 tip for someone starting a business from home?  Disqus below!!
Enjoy my content?   Subscribe to my blog for updates:
Tags: Blog, Bullet Points, Business From Home, Business Online, Business Owner, Cats, Endeavor, Entrepreneurs, Exchange Ideas, Extra, Find Business, Friends, Full Time, Heck, Higher Education, Home 1, Home Business Owner, Home Business Owners, Incom, Income Earners, Joshua, Junkies, Latka, Living Room, Lunch, Money, Money From Home, network marketing, Part Time, Paycheck, Personal Development, Personal Development Books, Quick Turn Around Time, Running, Sacrifice, Share Advice, Somethin, Starting A Business, Starting A Home Business, Starting Business, Time Income, Turn Around Time, Tv Show, Watch Tv, Wine, Working From Home